SUNSOFTニュースリリース【サンソフトの新作ゲームのご案内】
サン電子株式会社は「上海」を中心に、モバイルコンテンツを配信しています。
---
SUNSOFT's game for iPhone TM /iPod ® touch

Sale of " Mahjong Solitaire" launched!

~Simultaneous release in countries around the world~

---
SUNCORPORATION (Head office: Aichi Prefecture, JAPAN, President, CEO: Kiharu Yoshida, JASDAQ: 6736) launched sales of Mahjong Solitaire, a game for iPhone and iPod touch today in countries around the world. Mahjong Solitaire for iPhone and iPod touch is a puzzle game you can play intuitively by touching the touch-panel of your iPhone or iPod touch. Mahjong Solitaire for iPhone and iPod touch can be purchased at the App Store for iTunes®. The game will be sold in all countries where App Store are provided.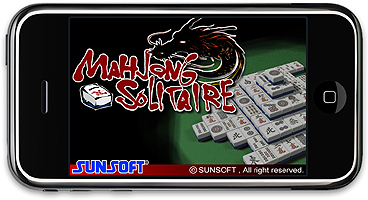 *About Mahjong Solitaire for iPhone and iPod touch Mahjong Solitaire is a puzzle game with mahjong tiles. The player removes tiles by selecting matching pairs from pile of tiles displayed on-screen. The game level is cleared when all tiles are matched. The game has 30 maps in total. When one screen is cleared, the next one can be selected. In each map, you can select the level of difficulty (EASY/NORMAL/HARD) and Hidden tiles by touching ON/OFF.

In Mahjong Solitaire for iPhone and iPod touch, you can play the game by directly touching the unique multi-touch panel with your fingers. In addition to game play by touch, you can enlarge or reduce the game screen with two fingers, enlarge or reduce (return to the original screen) the game screen with a double tap, or move the screen by tracing it with a finger.

You can play Mahjong Solitaire with iPhone or iPod touch (You may need to upgrade your OS software, depending on your iPhone or iPod touch model).



*About "Mahjong Solitaire"

Game title

Mahjong Solitaire

Genre
Puzzle game / One-person play type
Platform
iPhone 3G, iPhone , iPod touch
Release date
July 11, 2008
How to get
Charge
US $9.99
Distribution source
SUNCORPORATION
Copyright
(C)SUNSOFT
* About SUNCORPORATION SUNCORPORATION.
has been developing and selling game software for arcade games and
various platform games under the "SUNSOFT" brand both domestically and internationally since
1978. The company now sells and provides membership services for digital content such as game
software for domestic cell phones. By starting sales for iPhone, we will be expanding our business
all over the world.
Visit us on the Web at http://www.sun-denshi.co.jp/eng/ Contact us info-sunsoft@sun-denshi.co.jp

※ "SUNSOFT" is a registered trademark of SUNCORPORATION ※ Content names and screen images may be subject to change without notice.
※ Other company names and product names shown are all trademarks or registered trademarks of the companies that release them.